By Julia Fernandes
The year 2020 will surely go down in history as the year riddled with maximum attacks from nature on mankind. And why not? When we upset the delicate balance of nature, all the key elements – Fire, Land, Air, Water, Space (FLAWS) will join forces and respond to our persistent negative human actions in the language we best understand – fear.
We are so caught up in our lives that global warming, climate change and the loss of biodiversity are just topics that are good for class projects since they do not impact our day-to-day lives. But an invisible virus has been a game changer.
From the beginning of 2020 we have witnessed raging forest fires, deadly coronavirus, earthquakes, cyclones, and now locust attack prompting many to wonder is somebody out there playing Jumanji with us.
It looks as though nature will not rest until we learn to live in alignment with it, and become true instruments of the Creator. I came across this passage from the Bible, today.
What the cutting locust left,
the swarming locust has eaten.
What the swarming locust left,
the hopping locust has eaten,
and what the hopping locust left,
the destroying locust has eaten
Joel 1:4
Metaphorically speaking it implies that even if we escape one type of attack we will face another type of attack. For example, we may try to escape from the attack of coronavirus, but another attack such as cyclone is waiting for us.
So, what does all this add up to?
Every attack from nature is like a divine wake-up call to mankind to stop living in old energies of materialism, egoism, selfishness and greed. We cannot destroy natural habitats and expect nature to sit quiet.
We all need to change and stop harming nature. We also need to rise higher, to help and support each other, and thereby embrace our true and highest self, fulfilling our purpose for which we came to earth.
It's almost two and half months since lockdown and migrants are still walking miles to reach home, and in the process dying of hunger and exhaustion. An Indian actor Sonu Sood and his team have shown the way by rising to the occasion, arranging transport and sending back home 12,000 migrants.
Doctors and para-medical staff who are risking their lives in treating patients are doing an amazing job. There are many more who are doing immense good on the ground.
People who heed this divine call to selfless service of humanity will thrive and succeed in the new world being shaped and formed. And when that happens nature will stop playing Jumanji with us.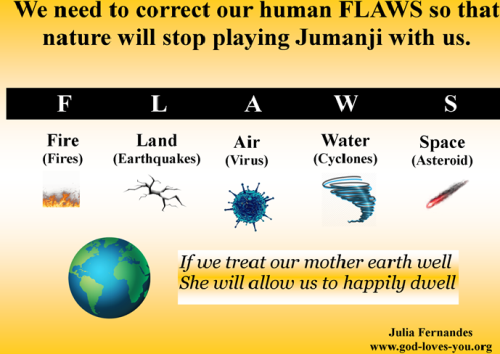 3923 Views