By Julia Fernandes
What is God like?
God is like you when you have reached Him.
The body perishes on earth, but the soul moves to higher planes of existence until it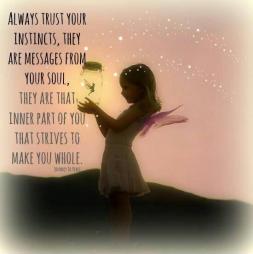 reaches God and achieves oneness with Him. Earth is a superb training school for the soul. Most of the problems we encounter here are soul lessons, tests, training. If we can build up our bodies which is still perishable; how much more should we build up our souls which is eternal?
So, here are some soul gym tips to develop the six pack for the soul:
Do regular and daily warm-ups with short, simple and heartfelt prayers
Do strength training of your spirit by developing faith and trust in God and keep it hydrated with positive and loving thoughts
Boost your soul immunity with a high-protein diet of love.
Say no to harmful processed soul foods such as lies, drama, revenge, negativity, etc.
A junk-free diet of worry, greed, envy, pride, jealousy is ideal for your soul.
Include equal portions of joy, music, laughter, anything that makes you feel sublime as part of your soul diet.
Exercise your intuition, or the still small voice within you. Don't let your conscience sleep for it's the only thing that will always guide you correctly.
Do pull ups with your physical or conscious mind which is by default earthbound, limited and full of weaknesses if it tries to control you.
Do lifetime cardio by healing all the heartbreaks your heart has ever known. Stay in love J for love is all that is to life - greater even than death.
Do circuit training between your thoughts, words and actions; your actions (good or bad) will eventually strengthen or weaken your soul.
Chin up and stop living in the past because it no longer has the power to change you; the present has.
Squat your problems by using humour – a very good tonic for your soul.
Build awesome spiritual muscles by choosing good over evil.
Lift weights – of others as and when you can. You will find it easier to carry/face your own problems.
Maintain your ripped soul look by doing all good deeds in secret. Whatever you do or give, do it freely without any expectation of reward or praise.
Feed your body and soul but don't feed your ego; don't allow others also to do so.
Lead a simple, honest, kind and selfless life – one fashion that is always trending - on top.
Your Soul Gym Trainer
2838 Views