By Julia Fernandes
"It is the glory of God to conceal a thing: but the honour of kings is to search things out." Proverbs 25:2
In today's unprecedented global catastrophe, all are looking towards God for answers. I, too, referred to His word for some insights. Corresponding to the year 2020, I deliberately picked up those verses located in the Bible at chapter 20, verse 20, i.e., 20:20. While the verses revealed obvious truths, the hidden messages uncovered in the Bible codes reveal deeper truths about the pandemic.
The Bible code also known as the Torah code is a set of secret messages encoded within the Hebrew text of the Torah. The Bible is written in a cryptic, symbolic and numerical code. Since I do not know Hebrew, I used the English Bible to decode hidden messages in the Bible.
I did not use complex Bible code programs. I used my own methodology. All I did was flow the Biblical text (verse) in a 7-grid column and thereafter, I did a simple word search. The results were astonishing:
CAUSE - Man's never ending craving
Job 20:20: "BECAUSE HE KNEW NO CONTENTMENT IN HIS BELLY, HE WILL NOT LET ANYTHING IN WHICH HE DELIGHTS ESCAPE HIM."
Man's insatiable craving is never ending – eating animals, destroying their habitat, polluting mother earth, etc. We haven't spared anything.
The above text of Job 20:20 is flown in a 7-grid column as below.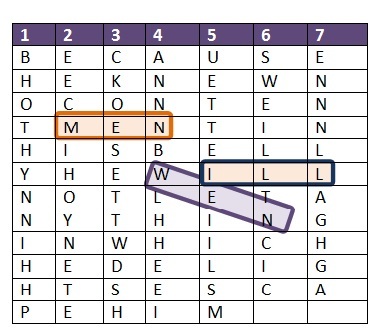 The hidden code in Job 20:20 reveal: MEN, ILL, NEW
As we all know it is a new virus making mankind ill!
CONSEQUENCE - For those who have died
Numbers 20:20: "BUT HE SAID, 'YOU SHALL NOT PASS THROUGH.' AND EDOM CAME OUT AGAINST THEM WITH MANY MEN AND WITH A STRONG FORCE."
We all know thousands have not been able to pass through this because of the strong force of the pandemic.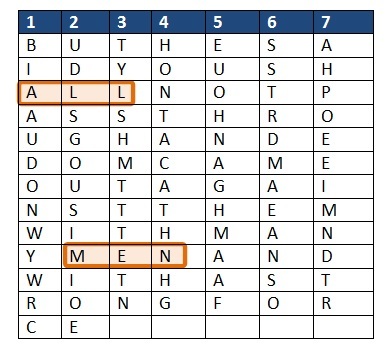 The hidden code in Numbers 20:20 reveal: ALL, MEN
As we know the pandemic and deaths are happening across the globe affecting all of us.
HOPE FOR THE WORLD
Exodus 20:20: "MOSES SAID TO THE PEOPLE, 'DO NOT BE AFRAID; FOR GOD HAS COME IN ORDER TO TEST YOU, AND IN ORDER THAT THE FEAR OF HIM MAY REMAIN WITH YOU, SO THAT YOU MAY NOT SIN.'"
We are being clearly told to not be afraid. This verse also tells us that we all are being tested so that the fear of God may take roots in us so that we don't commit further sins.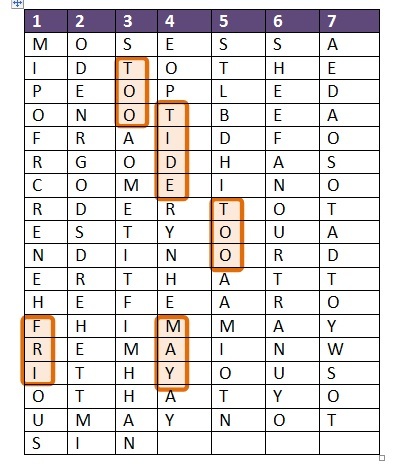 The hidden code in Exodus 20:20 reveal: MAY, TIDE, TOO (2), TOO (2)
Is ist possible that we may tide over this crisis in 2022?
Meanwhile, keep trusting in God
2 Chronicles 20:20: "They rose early in the morning and went out to the wilderness of Tekoa; and when they went out, Jehoshaphat stood and said, "Listen to me, O Judah and inhabitants of Jerusalem, put your trust in the LORD your God and you will be established. Put your trust in His prophets and succeed."
Even in the face of all that is going around us, this verse is guiding us to put our trust in God and He will save us.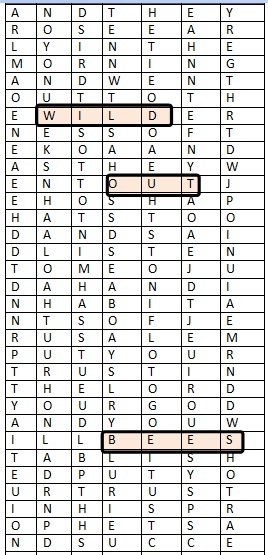 The hidden code in 2 Chronicles 20:20 are: WILD, OUT, BEES
As we have all seen wild animals are out in all parts of the world. In UK, rare wildflowers and declining bee populations could start to recover during the lockdown. Bees are the most important insects to humans on Earth. Due to their pollination, they provide us with one-third of our staple fruits and vegetables. God is truly restoring our Earth in ways we cannot even imagine!
IMPACT - Elderly most affected
Proverbs 20:20: "He who curses his father or his mother, His lamp will go out in time of darkness."
The elderly population is bearing the most brunt of this pandemic. Are we treating and honouring our parents and elders the way God wants us to?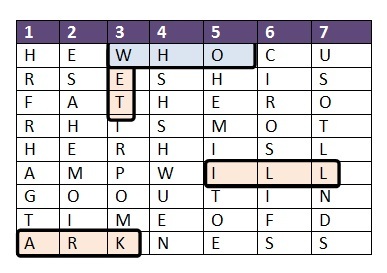 The hidden code in Proverbs 20:20 are WET, WHO, ILL, ARK
The Wet market was from where the virus originated. And it is WHO responsible for the worldwide spread of the illness due to their faulty judgement (see below their tweet). Because of which the whole world is in a lockdown (Ark). Noah's ark was the first family in lockdown.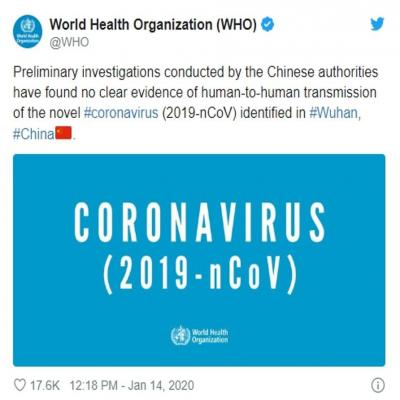 MEDIATOR - Request Jesus for help
Matthew 20:20: "Then the mother of the sons of Zebedee came to Jesus with her sons, bowing down and making a request of Him."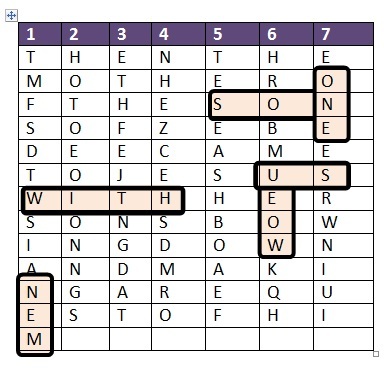 The hidden code in Matthew 20:20 are: MEN, ONE, SON, WOE, WITH, US
What is happening to men is causing the only son of God – Jesus great sadness. But, HE is with us.
It was the Son that interceded for us 2000 years back. We need to come to Jesus, bow down and request him to intercede for us to the Father. Only the Son can pacify the Father.
HOLINESS OF SABBATH DAY
Ezekiel 20:20: "Sanctify My sabbaths; and they shall be a sign between Me and you, that you may know that I am the LORD your God.'"
Are we maintaining the holiness of His day of rest?
The hidden code in Ezekiel 20:20 are: SAT, (000 or 03), HAT, HEAL, OUR, NOW, GOD
The first obvious truth is that Saturday is God's holy day of rest.
The deeper truth regarding pandemic reveal about Ozone layer. The chemical formula for ozone layer is 03. One molecule of ozone (03) contains three oxygen (0) atoms bound together. The word HAT could refer to the ozone layer as a covering of OUR planet earth which is NOW being HEALED by GOD, thanks to the lockdown as revealed by climatology scientists.
This Bible code also doubles up as a pictorial code. The word HAT and HEAL together form a triangle with OUR as the base to form a shape as a house. The likely message is that we should treat our planet like one BIG HOME.
KNOWLEDGE OF GOD - Do you feel embarrassed to speak about God?
Acts 20:20: "How I did not shrink from declaring to you anything that was profitable, and teaching you publicly and from house to house,"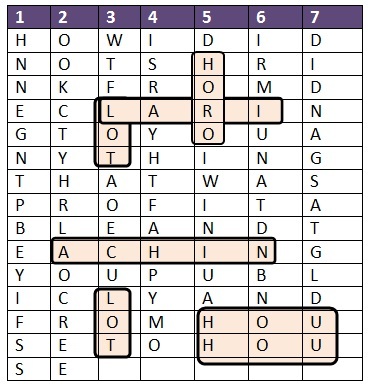 The hidden code in ACTS 20:20 are: ACHIN (CHINA), LARI (LIAR), HORO, LOT – 2 times, HOU – 2 times
If you unscramble the word ACHIN you get CHINA. Similarly, unscramble LARI and you get LIAR. Hou is a title given to ancient Chinese ruler. The hidden meaning of the message is clear.
The current rulers (government of China) shrinked from declaring the truth about the virus and are responsible for the horror the world is facing today.
WE WILL SEE GOD - God will reveal Himself through all this
John 20:20: "And when He had said this, He showed them both His hands and His side. The disciples then rejoiced when they saw the Lord."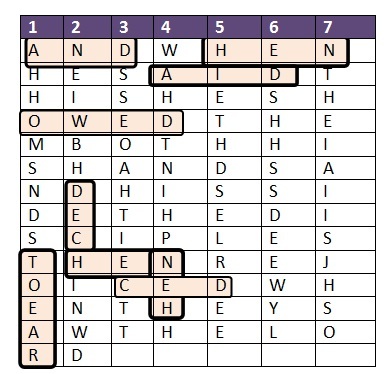 The hidden code in John 20:20 reveal: HEN – three times, DEC (2 times), AID, TOE, EAR, DNA, OWED
The majority of flu vaccines are grown in hen's eggs, a method of vaccine development that's been used for 70 years. Ear punching and toe clipping are methods are methods of tissue collection for genotyping of rats and mice. Genotyping means studying the genetic makeup.
Mankind owes these animals for their role in helping humans find vaccines.
Researchers should focus more on egg-based vaccines rather than DNA based ones. Maybe by December (DEC) we might get help (AID) in finding a vaccine!
Jesus uttered the word, "Peace be with you," to his disciples who were locked behind closed doors; we, too, are locked behind closed doors. But, we shall rejoice when we see and feel His presence in our lives and situations!
Note: I have decoded and shared what needs to be revealed. I have not added to His word nor taken away anything from His word. All I have done is searched for the hidden messages in the verses. The Bible is infinite and holds all the information. You just have to seek His word. After all, His word is living and active!
Stay blessed
Julia
5674 Views