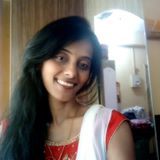 Hi, I am Julia Fernandes. Julia means youthful :)
I am an Ex-Journalist turned writer, editor and author of five e-books. I now work as a Freelance Writer/Editor.
With a journalism background behind me, I have been writing and editing since the last 16 years. I have been writing on spirituality from 2011. I love to share my wisdom and knowledge for the larger benefit of humanity.
You can check my work profile and portfolio on my page: My Work Portfolio
I relax by listening to soft and soothing music. I like to spread cheer by looking at the lighter side of things. I love babies, kids and animals a lot. I see God in every little child. It's the small things that really make me happy, and it is the small things that also make me cry.
I am not single
I am not committed,
God has kept me on reserve
For the guy who deserve
I read somewhere that when you have faith and hope for your future, others with faith and hope will find you. How God brings two people together is a mystery. Yet, when you trust God to make the most critical choice in your life, God invariably picks the best for you. So, like me, if you too are waiting for God to lead you to His choice, keep up the faith and believe that He will.

For God is great
He gives the best to those who wait...:)