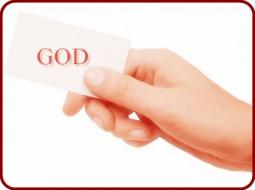 Business worries? Consult God
By Julia Fernandes
September 12, 2011
'Don't use anybody in your business and that includes God.' -- Julia Fernandes
I don't know how many businessmen or those in positions where they have to bring business to their organization pray or talk to God about their business woes? I am not talking of the prayer people say when they pray for success in business/work. Nope. I am talking about how many businessmen discuss with God their business plans or the deals they are going to strike?
It's common knowledge that several businessmen hire experts in the key business areas to guide them and help them maximize their profits in most of their business dealings. But, how many stop to consult God who is THE BEST with business knowledge unparallel to any expert in this whole world?
God knows exactly how the stock markets are performing; He even knows when it will crash or when it will spike. He knows all the nitty-gritty's of investment banking, He knows the ideal debt: equity ratio a company should maintain. You cannot find anybody better than God where number-crunching is concerned. Only He has the power to turnaround any sick company into the most profitable company on earth, if you truly believe in Him with all your heart and soul.
But there's a catch. If you really want God to help you crack the toughest business deals, you have to abide by his rules. You see, He does not like dishonesty or cheating at all. He will give you the success you are looking for, provided you do so with utmost honesty and integrity. I know honesty and integrity are words not found in the dictionary of most businessmen. But, if you want a success sanctioned by God, you got to include these two words in your dictionary and abide by them.
Asking for guidance from God does not mean you have no responsibility in thinking or planning. Rather it means you have a higher authority with supreme knowledge of the past, future and present who is with you to guide you to make the best decision for your business. And unlike your experts, He charges nothing. All He asks is true love in return.
With God besides you nobody will be able to pull the wool over your eyes. He will foil the attempts of those who try to cheat or harm you in your business. God is not to be remembered just in the morning with just chants or lip service prayer before you start to work. Neither is He to be prayed to just to ask for success and wealth.
There is much more to God. Remember the creator in everything that you do and that includes your business work too. You will be surprised at the way God will handle your business. And maybe, one fine day in the twilight moments of your life you will realize that the greatest and most profitable business on earth is the business of knowing, loving and serving God!