By Julia Fernandes
As you soak in the magic of Christmas, did you ever wonder the origin of the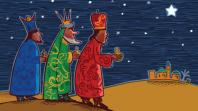 gifts that the three wise men (Kings) had brought for the Lord? A non-canonical book - The Forgotten Books of Eden, sheds interesting light and prophecies of the birth of Christ.
It narrates the story of how after Adam and Eve were expelled from the Garden of Eden they were living in a cave called Cave of Treasures where God would talk to them through His Word. They were extremely miserable and sad, being separated from God.
The first three earthly gifts to Adam
Adam was extremely afraid of the darkness because for 12 hours of night he could not see Eve, and neither could she see him. His immense fear of darkness made him cry, and he pleaded to God to give him something from the garden to comfort him.
Then God asked angel Michael to bring golden rods to be given to Adam to help him overcome his fear of darkness. "This did God in His wisdom, in order that these golden rods, being with Adam in the cave, should shine forth with light in the night around him, and put an end to his fear of the darkness." chapter XXIV, v7. He then commanded angel Gabriel to go to the garden bring sweet smelling incense while he commanded Raphael to give myrrh to Adam.
God then lovingly explained to Adam that these three gifts were a token from God to Adam to comfort him. "For I will come and save thee; and kings shall bring me when in the flesh, gold, incense and myrrh; gold as a token of My kingdom; incense as a token of My divinity; and myrrh as a token of My suffering and of My death.
"But, O Adam, put these by thee in the cave; the gold that it may shed light over thee by night; the incense, that thou smell its sweet savor; and the myrrh, to comfort thee in thy sorrow." chapter XXXI, v2-3
God reveals his plan to come to earth
This is one of the oldest known prophecies of Christ
Seeing their misery God tells Adam, "All this misery that thou hast been made to take upon thee because of thy transgression, will not free thee from the hand of Satan, and will not save thee. But I will. When I shall come down from heaven, and shall become flesh of thy seed, and take upon Me the infirmity from which thou sufferest, then the darkness that came upon thee in this cave shall come upon Me in the grave, when I am in the flesh of thy seed."
"And I, who AM without years, shall be subject to the reckoning of years, of times, of months, and of days, and I shall be reckoned as one of the sons of men, in order to save thee." Chapter XIV, v3-5.
God is surprised at the first offering of blood
Adam and Eve both try to end their lives by throwing themselves down from a high mountain with their blood spilled out almost dead. They make the first altar ever built wtih the help of stones, leaves, some rock and the blood they spilled making their first ever offering.
"Then the merciful God, good and lover of men, looked upon Adam and Eve, and upon their blood, which they had held up as an offering unto Him; without an order from Him for so doing. But He wondered at them; and accepted their offerings." Chap XXIV.
God then reveals his plan of salvation
God is moved by their attempts to reconcile with Him. "Then came the Word of God to Adam, and said unto him, "O Adam,
as thou hast shed thy blood, so will I shed My own blood when I become flesh of thy seed;

and as thou didst die, O Adam, so also will I die

and as thou didst build an altar, so also will I make for thee an altar on the earth;

and as thou didst offer thy blood upon it, so also will I offer My blood upon an altar on the earth

and as thou didst sue for forgiveness through that blood, so also will I make My blood forgiveness of sins, and blot out transgressions in it. v4-5
GOD REACHED OUT TO ADAM AND CONTINUES TO REACH OUT TO ALL OF US.
Wishing you all a Blessed Christmas and a Peaceful 2020.
The Forgotten Books of Eden is a beautiful collection of apocrypha and pseudepigrapha writings not included by original Bible compilers, yet expanding many Biblical chapters, thereby serving to enrich and deepen your knowledge and appreciation of the Biblical canon.
1029 Views